In troubled times it is always good to be reminded that Norwich is a city with a long tradition of welcoming people and celebrating and enjoying artistic endeavour. Norwich Arts Centre has played a big part in creating space for performers to develop and grow their skills before appreciative audiences.
Tonight we were treated to an intriguing and enjoyable performance from Samia Malik. Samia is Norwich based, born in Saudi Arabia to Pakistani parents but resident in the UK since her childhood. She is both a visual artist and an accomplished singer and live performer and blends both into an uplifting stage show.
She is a striking figure on stage, with a monochrome silver outfit that matches her flowing silver hair. During the show, she happily states that she is 61 and tells us of the events of her life that have shaped the strong and confident woman that she presents to us. Coming from an Asian background where women's roles were often very closely defined and constrained she has evidently formed her own path through life and is keen to share her positive and empowering message. Indeed her latest album is called 'Songs to Empower and Heal', a quotation from an earlier review of her work.
She was joined on stage by the tabla maestro Sukhdeep Dhanjal, who apparently had to head back to his home in High Wycombe after the show finished. His impressive accompaniment added to the recorded tracks that Samia used to back her songs.
We were presented first with some joyful dancing from the Natapriya Dance Group, precise, expressive and delightful who got the audience buzzing for the arrival onstage of Samia.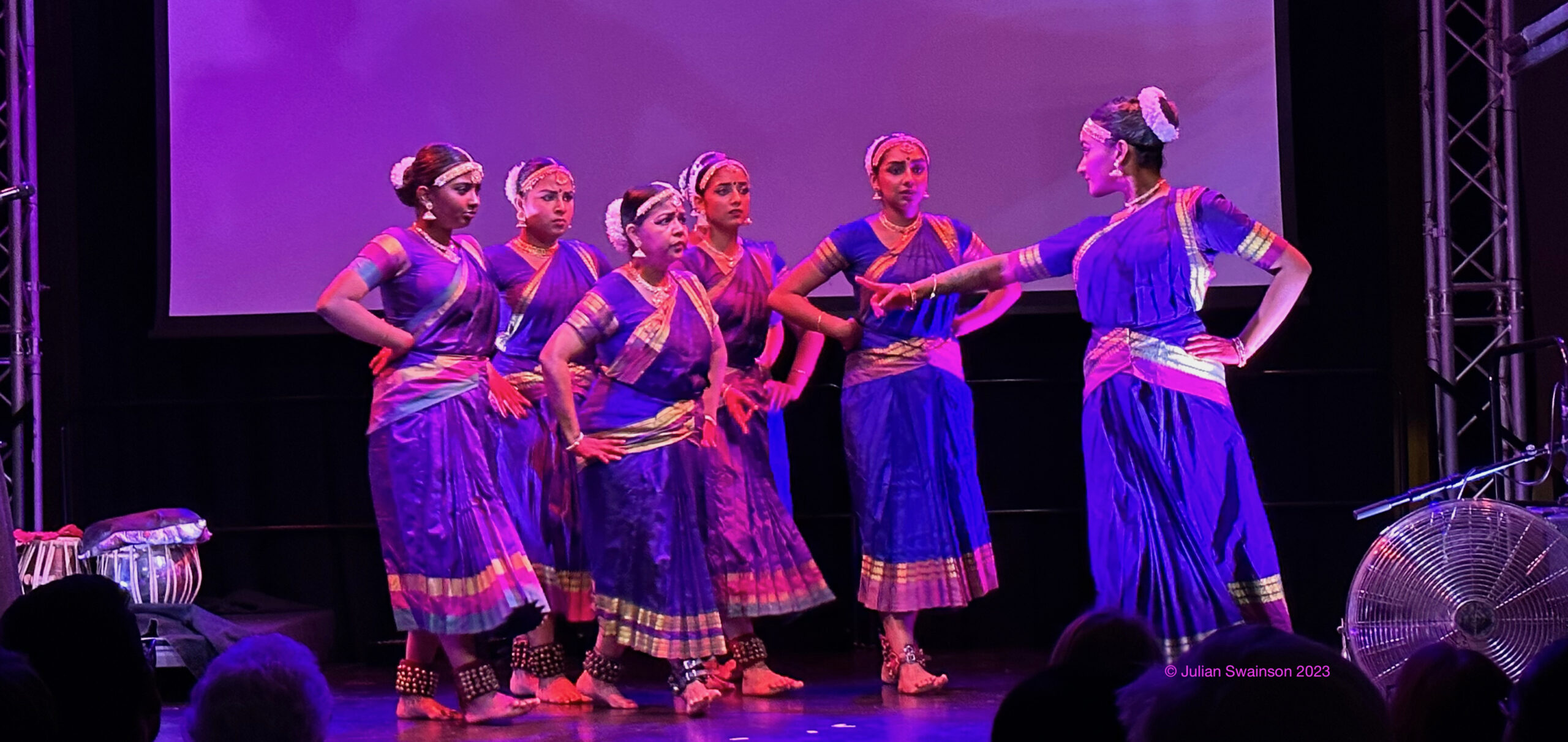 Samia's songs seem deceptively simple and convey powerful emotions, mainly in English but sometimes switching easily to Urdu. Her work is indeed uplifting and positive, and she reminds us to focus more on what we have in common, rather than what divides us. At a time when politicians of many hues seem to concentrate on divisive terms designed to set us against each other Samia encourages us to enjoy the diversity and enjoyment that a fusion of cultures brings us. Try this for yourself: next time you see a sentence with the word 'immigrants' in it, just change the word to 'people' and see if it makes sense. Only the most wealthy and privileged amongst us can travel the world freely to enjoy real cultural diversity, so we are all made richer when diversity comes to our own communities and performance spaces. I cannot think of an artist who represents this richness better than Samia, who also creates distinctive painting and artworks that are used to form a backdrop to her performance.
Samia's music is more intriguing as she draws influence from numerous different genres, and her work would be hard to categorise. If you get the chance I strongly recommend that you enjoy her work live, I guarantee that you will leave walking taller with a smile on your face. A glorious performance for Solstice Eve.
Read more here: https://samiamalik.com/home
© Julian Swainson, Norwich Eye, 21 June 2023