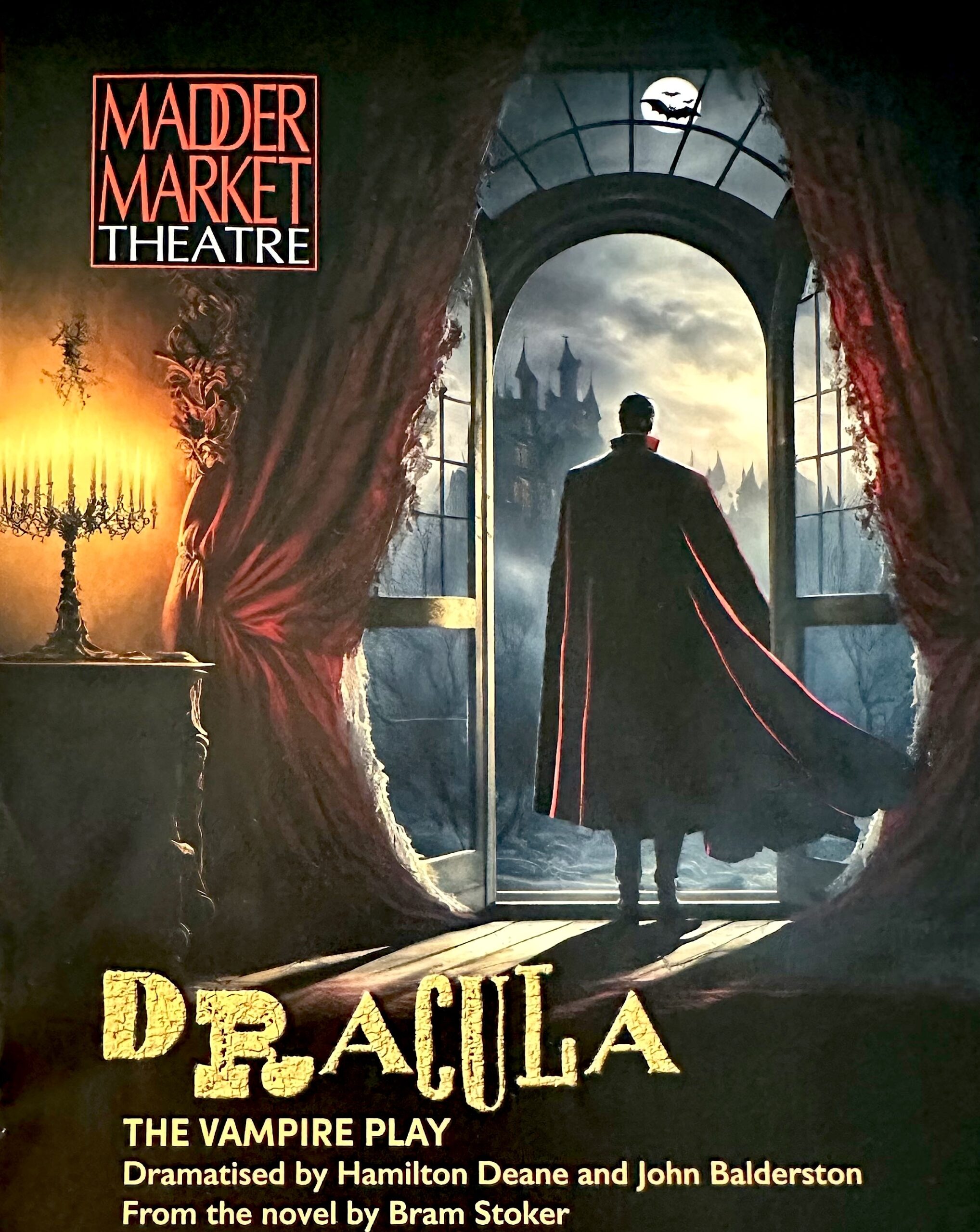 The tale of Dracula first set out in Bram Stoker's 1897 novel has been widely adapted and presented in many different forms of popular culture, most notably perhaps in some memorable films. The concepts and story mechanisms of this particular fantasy have become almost guidelines for a whole industry of derivative tales and dramas, so we sink into this comfortably familiar fantasy as we settle into our chairs in the suitably atmospheric Maddermarket Theatre.
This version of the Stoker drama is scripted by Hamilton Deane and John Balderston and gives this capable cast every opportunity to ramp up the gothic horror themes. Directed by Christine Lloyd this production is a family friendly show that edges just slightly more to comedy than we might expect, while staying true to the disturbing concepts of the Stoker story and powering through it at a satisfactory pace. There is little space for subtlety or nuance in this script, but this company make the most of it with some clever body language, gesture and expressions.
Relationships between cast members are asserted early, so we have Doctor Seward (Julie Benfield) running an asylum where her pretty young niece Lucy (Keila Isaacson Gray) happens to be; Lucy's betrothed Jonathon Harker (David McCabe) allows his devotion to her to take him away from his undoubtedly bank-related employment to see her through her troubles as the vampire strikes. Van Helsing (John Davis) is a tall Dutch cleric who is on a Pope-powered mission to thwart the blood drinking Dracula, who is played with considerable style by Jose Tarouca.
Unless I misheard it the action in England has been inexplicably relocated from Jet black Whitby to somewhere near Purley, outside London. I used to drive buses to Purley and I can assure you it is truly boring. Nonetheless the set gives us a nice rear window view of Dracula's pad next door, and the occasional bat or owl as his transmogrified self wafting in and out. The set design on this tiny stage is just right.
Other cast members give us memorable characters. Joe Seeney is an energetic Renfield, a self described 'loony' in Dr Seward's sanatorium, Cherie Henry makes the most of her role as the maid, flirting with nursing attendant Butterworth (Richard Sheppard) who clearly has some job satisfaction issues to resolve.
The Norwich Players Theatre Company turn this rather plodding script into a well paced entertainment which is very well received by tonight's audience. They are good at building credible characters with appropriately eccentric foibles, with Tarouca and Davis dominating the show as Dracula and Van Helsing. Jose Tarouca gives us a modern Dracula who is almost too sleek and sexy to allow us to remember that he is supposed to be the bad guy here, while in contrast John Davis looks like a cleric who has earned his stripes on a real stage or two. The contrast works well. The whole cast are convincing and characterful throughout.
Overall this is well presented show engineered to please an audience with a capable and engaging cast. It presents a classic story in a fast moving and engaging manner and gave me the best Tuesday night out I have had for many a month! Better get back in my box now, dawn is approaching…
© Julian Swainson, Norwich Eye, 7 November 2023
Dracula by The Norwich Players Theatre Company is at the Maddermarket Theatre from 7-11 November 2023
More info and tickets from maddermarket.co.uk